Abhyanga is a whole body massage which uses warmed herbal infused oil.
45 min
₹3,000
Sweat inducing treatment heated bags of herbs are applied to the body
45 min
₹3,000
Abhyanga + Potalli is whole body massage+ heated bags of herbs applied
90 min
₹4,000
Abhyanga + Shirodhara (Min 7 days pack)
Full body massage + stream of warmed herbal oil is poured on forehead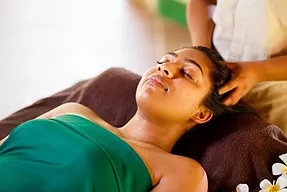 Shiro Abhyanga (head massage)
This treatment includes massaging the head, neck and shoulders.
30 min
₹1,000
Includes pouring warmed medicated oil over a particular body part.
30 min
₹1,000
Padabhyanga (Foot Massage)
Includes massaging the knees, calves, ankles, soles of the feet & toes
30 min
₹1,000
Greeva/Kati/Janu Basti (neck,back,knee)
Warm oil is retained in specific area of body with barrier of dough
45 min
₹1,500
Ayurvedic facials help enhance radiance from within.
60 min
₹2,000
An Ayurveda mask cleanses and nourishes the facial skin.
30 min
₹1,000